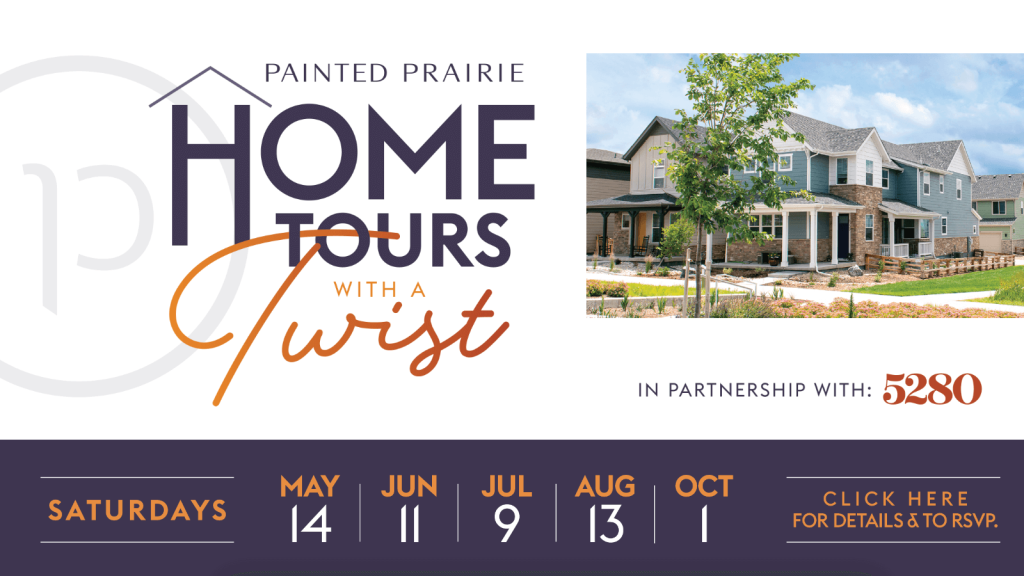 We excited to welcome back Painted Prairie's FREE summer events series – Home Tours with a Twist, sponsored by 5280 Magazine. Each month from May through October, there will be an event at High Prairie Park, with the first event coming up soon on Saturday, May 14th from 9am – 1pm.
Here's what you can expect at the first event:
Community & Model Home Tours
Velofix Bike Shop – bring your bike to get a FREE safety inspection!
Farmer's Market
Coffee & Food Trucks
Music – Enjoy acoustic music from Wild Faith, featuring a diverse playlist ranging from Sinatra to Daft Punk!
(Plus special activities happening just for Painted Prairie residents)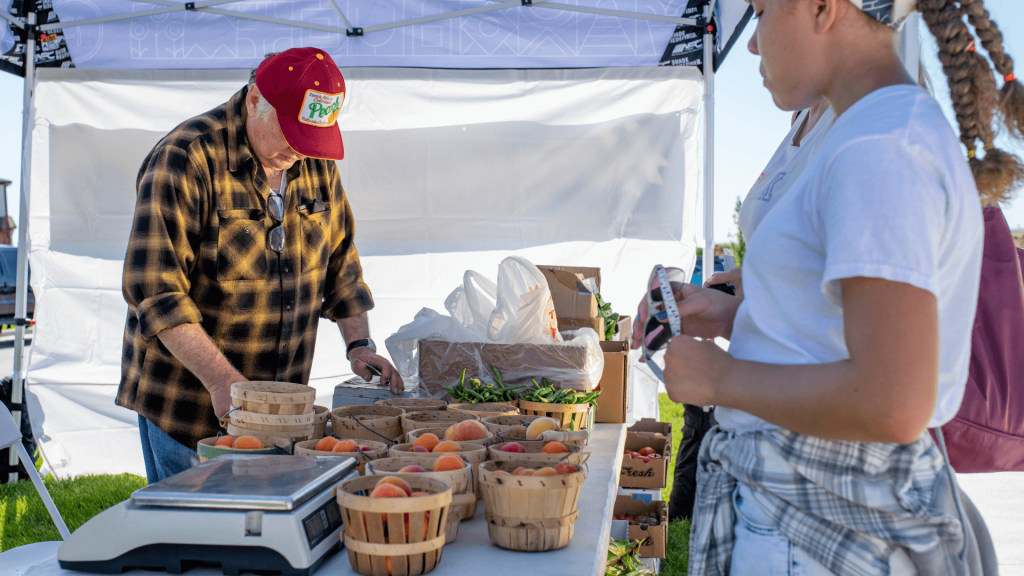 Here's What You Can Expect Each Month
Community Tours – Explore the entire community first-hand in our chauffeured shuttle carts while tour guides share the vision Painted Prairie. See the future of Painted Prairie come to life virtually through our video experiences.
Model Home Express Tours – Know exactly which builder and model home you want to see? Hop on the Model Home Express shuttle carts and tour that specific model or learn more about current, new and future builders.
Food and mocktails – Those who join us on a Community Tour can enjoy one of our refreshing complimentary mocktails! Then, relax and unwind in beautiful High Prairie Park with family or friends. Grab some tasty fare from our unique selection of local food truck vendors and experience the "welcome home" vibe of Painted Prairie first-hand!
Music and Market – Take a stroll through our curated street market, featuring rotating local artisans and growers, and enjoy live music while you browse and shop. Pick up a complimentary Painted Prairie reusable shopping bag at check-in to carry your purchases! (one per family, while supplies last).
Details coming soon for the following events:
June 11th (9am – 1pm)
July 9th (9am – 1pm)
August 13th (9am – 1pm)
October 1st (10am – 3pm) – the third annual Prairie Harvest Fest!
This info was copied and/or repurposed from the Painted Prairie event website.
All Photo Credit: https://lifeatpaintedprairie.com/
Want to learn more about Painted Prairie, including community and builder updates? Check out some of our recent posts below. Also, be sure to follow Painted Prairie Living on Facebook and Instagram.
The Latest Builder and Development News from Painted Prairie
McStain Neighborhoods Only has a Few Homes Available in Painted Prairie
David Weekley has Quick Move-in Homes Available in Painted Prairie!