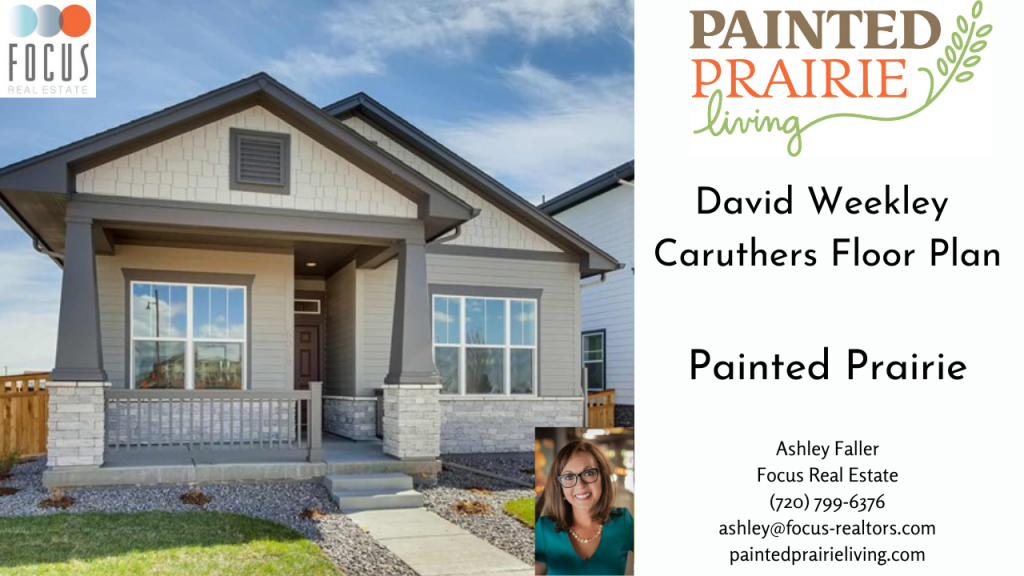 There are many reasons buyers are drawn instantly to ranch-style floor plans. The flow from one room to another with a large living room and kitchen in the center of the home is always appealing.
In Painted Prairie 3 builders offer ranch floor plans (you can see all about that HERE). David Weekley, in particular, offers 2 ranch plans: The Caruthers and The Lincolnshire. The Caruthers is the smaller of the two floor plans but is still impressive at a total of 3,056 square feet.
As we are ending Phase I in Painted Prairie and entering Phase II, I'm excited to announce both the Caruthers and Lincolnshire floor plans will be making their appearance in Phase II.
As you can see the Caruthers floor plan is quite large with two bedrooms plus a study. There are also two full-size bathrooms, walk-in closet, and attached 2-car garage. There are many options you can add onto this plan such as the owner's bath layout and fireplace in the family room among other options.
If you chose to finish the basement you can easily add 2 more bedrooms plus a game room and unfinished storage space.
Check out this YouTube video I recently took of a finished Caruthers model in Painted Prairie.
As a buyer's agent, I am paid by the builder – never by the buyer. Whether you have a realtor on a new build home or not, you will pay the same amount for your home. If you don't have a buyer's representative on your side, that amount of commission is simply absorbed back into the builders profit margins – it is not rebated back to the buyer. So why not have free help when building your home? Not only will I advocate on your behalf, I will also assist in arranging inspections, and include a free 3D pre-drywall tour of the home. This is helpful in case you want to make home improvements in the future, you will know what is behind the walls.
And, if you have a home to sell, we list all our homes for 1.5% while including all the top-notch marketing services that we are known for.