Exciting times! Parkwood Homes is now officially open in Painted Prairie!  Parkwood Homes has been building in the Denver area for the past decade or so.  They became a favorite builder for many in both Central Park and Sterling Ranch over the years with their beautiful, timeless style among many other reasons.
So what makes a Parkwood home so special? Well, for one, when you see one, you will know it. The homes have a Southern-style exterior with large front porches, classic exterior accents, and beautiful landscaping. And once inside the home, it's hard to not fall in love with the exquisite detail found throughout the home. All Parkwood homes include smooth drywall walls (which is very rare in the Denver area), custom crown molding, jamb and casing on all windows and doors, and so much more.
For me what stands out the most in a Parkwood home is the overall quality of the home. On the resale side of things, Parkwood homes hold their value incredibly well. In Central Park some of the highest sold homes are Parkwood homes built between 10-15 years ago and the reason is quality of both construction, designs and the overall use of space in the home.
Parkwood homes also works with fantastic vendors to make their homes that much more special.  All Parkwood homes in Painted Prairie will include Tharp cabinets.  Tharp is a highly-regarded Colorado-based custom cabinetry vendor.  
Guys Floor Service is the design team responsible for making these homes so fantastic.  If you do decide to build a home from dirt, you will be spending quite a bit of time with the design team going through all your choices.  (Hint – as your realtor I would LOVE to accompany you to these design meetings.  They are as fun as they can be overwhelming and having a second set of eyes is always helpful ;))
Currently, Parkwood will be building "spec" homes which means all the finishes have been pre-selected.  The advantages to purchasing a spec home is 1) you will know the all-in price when you sign the contract as opposed to building a home from dirt where you will have other associated costs (see more about how to price a new build home HERE), and 2) the home has been designed by a professional designer who knows what the current and future trends in homes are and what most buyers are looking for in their home.  
Parkwood is hoping to be able to sell dirt lots in the near future.  This is when the real fun begins when you can go to the design center and choose your own finishes to personalize your dream home. Check out the Chelsea and Lexington links below to see the floor plans and options that can be chosen.
Below is a map of the next few lots that Parkwood will be releasing.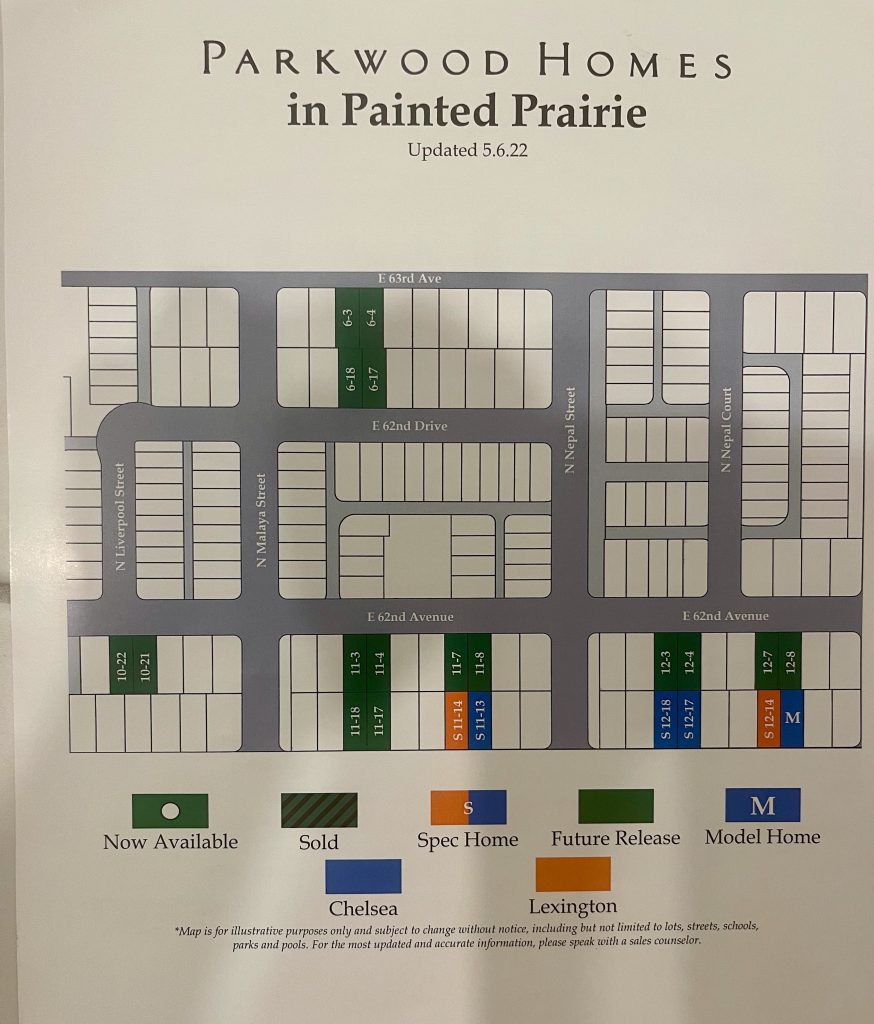 Tell me about what Parkwood is offering in Painted Prairie.
The two floor plans in Painted Prairie are the Chelsea and the Lexington.
The Chelsea (located at 21275 E. 61st Drive) will serve as the model home.  It is coming along beautifully and there is not a single square inch of this home that isn't stunning.  As this is the model home, every option you could choose on this home is included.  Stay tuned for additional information about the home or reach out if you'd like to schedule a showing even while it's under construction.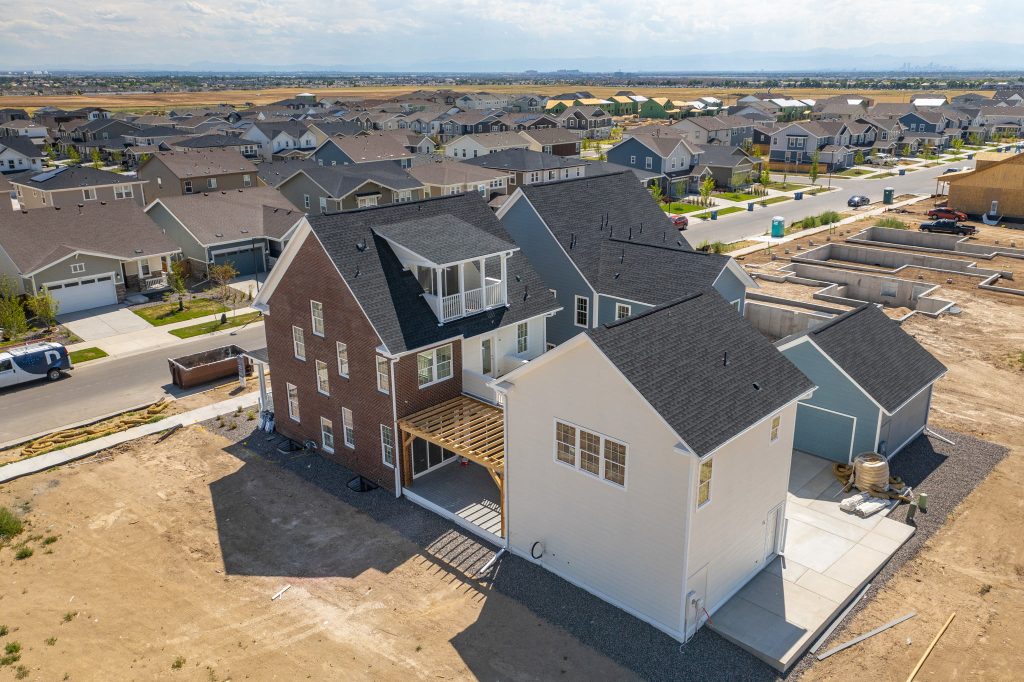 The Lexington is currently available for sale!  21265 E. 61st Drive features 4 bedrooms, 2.5 bathrooms, 2.5 car garage, and is over 2600 square feet.  Everything in this home is stunning.  It's hard for me to decide which is my favorite part, but it's a tie between the mudroom, kitchen, office (which can also be a main floor bedroom), or master bedroom.  But then there's the fabulous laundry room, hardwood flooring on the main and second level, that fireplace – it's hard to choose!  Check out all the photos, 3D tour, and more HERE.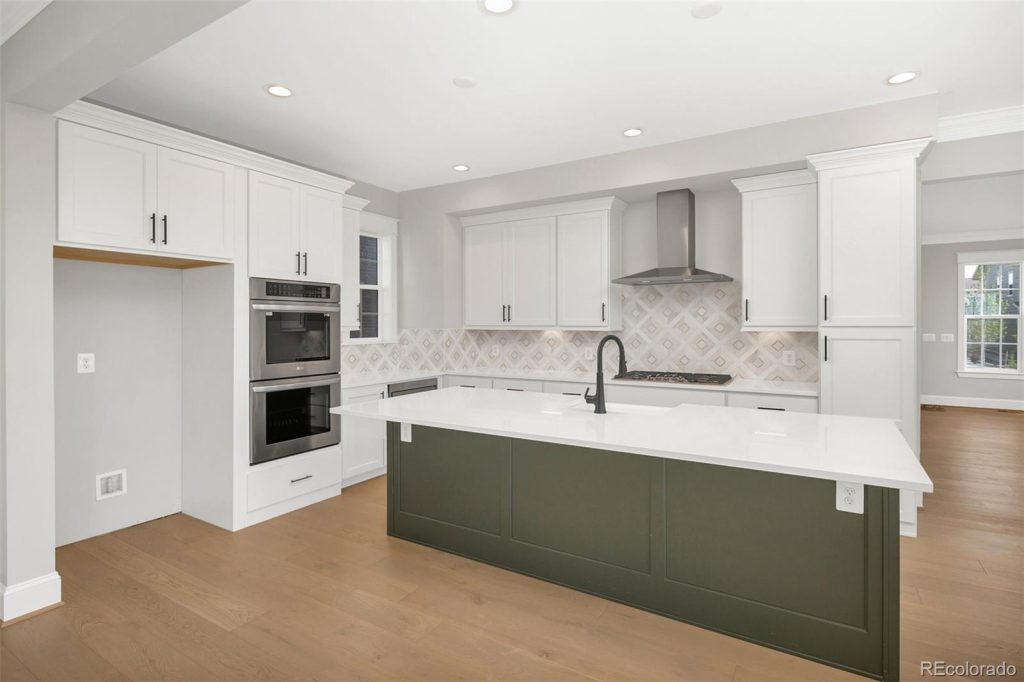 Want to learn more or see one of these stunning Parkwood homes in person? My contact info is below! I look forward to hearing from you.