We recently stopped by the David Weekley sales office in Painted Prairie to touch base with the team and learn what inventory they currently have available. We are excited to share that David Weekley currently has a few quick move-in options available in Painted Prairie. Check them out below and please reach out if you'd like to learn more about any of these great homes.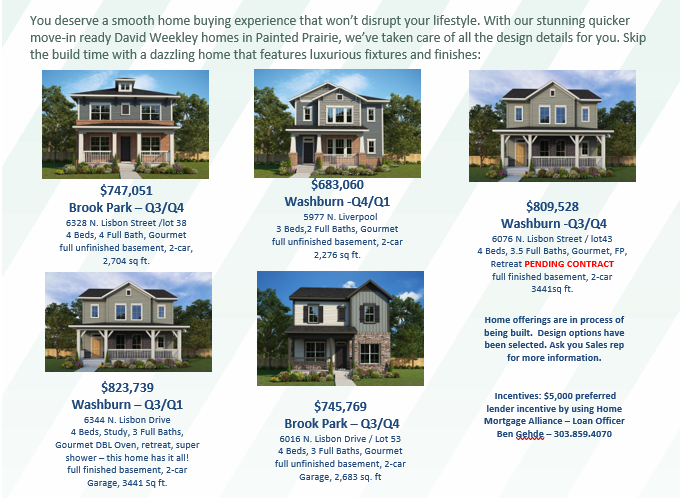 These homes are currently under construction and the design options have been selected – which takes a lot of stress out of the process!
Here's a look at the lot map.
Why Use a Buyer's Agent on Your New Build Home?
As a buyer's agent, I am paid by the builder – never by the buyer. Whether you have a realtor on a new build home or not, you will pay the same amount for your home. If you don't have a buyer's representative on your side, that amount of commission is simply absorbed back into the builders profit margins – it is not rebated back to the buyer. So why not have free help when building your home? Not only will I advocate on your behalf, I will also assist in arranging inspections, and include a free 3D pre-drywall tour of the home. This is helpful in case you want to make home improvements in the future, you will know what is behind the walls.
Check out the video below for more info on how a an agent can help with your new build.